ThoughtBridge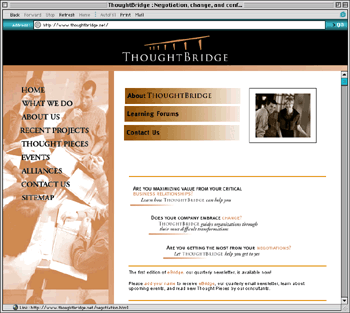 ThoughtBridge offers negotiation & crisis management training & consulting. I was brought in as they were rebranding the company to create a website to introduce their new name and message.

One of the important factors of the site was to try and make it as simple as possible to update and maintain for the client. This was in addition to the clients desire to tie the site in closely with their PowerPoint presentations.

Roles:
- Graphic Design
- Web Design

Timeframe:
- January through August 1999

The site has been redesigned since my design.
Other Sites
* indicates company and/or website offline, or not in original form.