Papermundo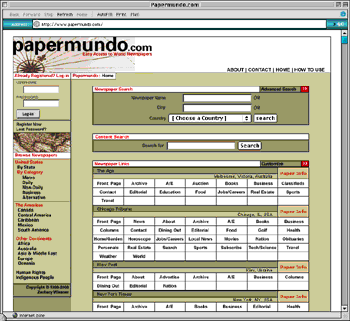 Papermundo a newspaper search engine which both allows a text search of newspaper websites from around the world, but it also provides a direct links to the major newspaper sections for those same newspapers.

Working with the site's creator, I developed the initial user interface which involved designing relevant search results as well as an easy-to-use customization system. Besides the name and the system, there were no extising design/marketing materials and so it fell upon me to take a first stab at the visual identity for the site.

Roles:
- Graphic Design
- User Interface
- Web Design

Timeframe:
- June through September 2000

The site is no longer online.
Other Sites
* indicates company and/or website offline, or not in original form.